Award-Winning Windows & Siding Company
Since 1995 your Happy Valley neighbors have been choosing A Cut Above Exteriors for exterior remodeling projects including siding replacement, roof replacement patio door installation, and window replacement.
Call us today for a free consultation and we'll help you choose the right material, styles, and colors to complement the architecture of your home as well as your own personal style.
Award-Winning Customer Service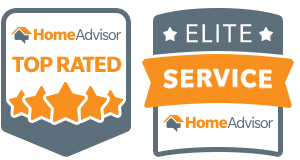 We won the Home Advisor Elite Service award for outstanding customer service. We are dedicated to taking care of our customers, it's the reason we are still growing 25 years after our founding.
Since we opened in 1995 A Cut Above has won countless awards including over a dozen Angie's List Super Service Awards for customer service. We think long-term and we know happy customers are the key to our long-term success. This is why we offer you our Lifetime Craftsmanship Warranty on many of our services including full siding replacement and roof replacement projects.
Give us a call at 503.334.0733 and find out why we keep winning customer service awards.
Lifetime Warranties on Siding and Roofing
There are two types of warranty, the manufacturer's warranty and the installer's warranty known as a Craftsmanship warranty.
Manufacturer's Warranty
Manufacturer's Warranty covers you when the product installed fails. We chose high-quality brands so this is not a significant risk. The highest-quality brands with the best warranties will not cover you if the siding was installed incorrectly. And, these installation-caused warranty claims are by far the most common claims in the remodeling industry.
Installation problems are covered instead by the Craftsmanship Warranty, and we offer you the strongest Craftsmanship Warranty we can.
Our Lifetime Craftsmanship Warranty
When we talk about our Lifetime Warranty we are referring to our Craftsmanship Warranty, the strongest in Happy Valley. Choose A Cut Above Exteriors and you'll be protected by our Lifetime Craftsmanship Warranty on all full siding replacement and 5-Star roof replacement projects.
If we make a mistake during installation we will fix it for you no additional charge. Read more about our lifetime craftsmanship warranty, here.
We've been around since 1995, and we'll be around to take care of you if you need it.
Award-Winning Hardie Siding Contractor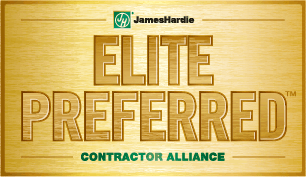 A Cut Above is an Official Partner of the James Hardie siding company. Hardie rates us "Elite Preferred", putting us in the top .1% of all James Hardie siding companies.
Windows Company Serving Portland Since 2008
We also offer residential window replacement projects. We are a locally owned affiliate with over a dozen Angie's List Super Service Awards to it's credit. We have completed thousands of replacement window projects including many in Happy Valley Oregon.
Roofing Company Serving Portland Since 2008
We offer CertainTeed composition roofing which is known for it's longevity, energy efficiency, low maintenance, and aesthetic quality. We will work closely with you to make sure you select the shingle style that best fits the architectural design of your home perfectly.
We've performed hundreds of roof replacement projects over the years, we bring detail-oriented workers and personal attention to every job.
Siding Company Serving Portland Since 1995
Since 1995 we've been an award-winning siding contractor, completing thousands of siding replacement projects in this time. We offer real cedar siding, James Hardie's fiber cement siding known as Hardiplank, as well as decorative stone siding.
Call us today to discuss the best siding material and style for your home.
Our Siding Options Include
Top Quality Siding Products
After an in-depth analysis of all the home siding products and materials on the market we selected a few high-quality siding solutions to offer you, including real cedar siding and James Hardie's Hardiplank siding. James Hardie has a manufacturer's warranty good for 30 years and we have a 97% recommendation rate on Hardiplank projects, as seen here.
We'll work with you to determine the colors and styles that work best for your home and your personal preference. To learn more about new siding for your home call us for your free consultation.
Our Remodeling Services Include
Roof Replacement
Window Replacement
Patio Door Replacement
Siding Replacement
Testimonials from Happy Valley
"There have been several follow-up problems, but A Cut Above Exteriors has resolved them in a timely fashion."
Susan T., Happy Valley siding testimonial (posted to Guild Quality)
"The installation crew on this job was amazing. The two installers who worked on the house were awesome."
– Tony M, Happy Valley siding testimonial (posted to Guild Quality)
"5 Stars"
– D. & K., Happy Valley siding testimonial (posted to Guild Quality)
"I am extremely satisfied with the work that was performed. The entire staff was courteous and easy to work with, particularly the construction workers who were always willing to answer questions I had as the work proceeded. Would definitely recommend."
– Douglass, Happy Valley siding testimonial (posted to Guild Quality)
We Work With Many Types of Properties
Residential
Multi-family / Multi-plex
Condominiums
Townhomes
Row Homes
And more!
About Happy Valley Oregon
Incorporated in 1965, Happy Valley's growth really kicked off in the 90's. As of 2020 Happy Valley boasts over 25,000 residents.
Happy Valley is one of the rainiest cities in the Portland metro area with a recorded annual rainfall average of 48 inches.
Mount Scott, an extinct volcano, is the highest point in Happy Valley at 1,050 feet.
Happy Valley council members are elected to staggered four year terms so that at least two members are experienced at all times.
Source: Kiddle.co
12-Time Angie's List Award-Winner
Guild Quality
Qualified Remodeler Top 500 Remodeler
James Hardie Elite Preferred Contractor