It's time for new siding and roofing!
How long have you been thinking about getting your siding or roofing replaced? Chances are this letter is yet another reminder of what you already know… that old roof has to go and that worn out siding needs a face lift! Here are some sure signs that your siding and roofing need replacement.
ROOFING PROBLEMS: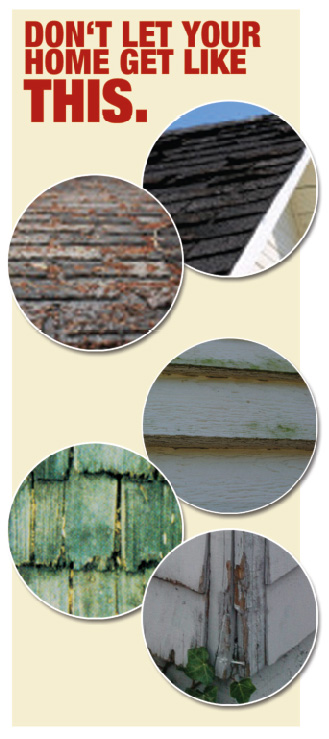 Buckling– One or more ridges appear along the flat areas of your roof
Curling – The corners of the tabs are curled up or down
Missing or Torn Shingles – Caused by heavy wind or gradual weakening of the shingles over time
Blistering – Shingles have bubbles or significant bumps
Rotting – Shake roof appears discolored and crumbling
Inside Ceiling Spots – Discolored spots on the ceiling due to water entry
SIDING PROBLEMS:
Warping – Bowing sections, often caused by water intrusion
Rotting – Usually on lower boards closer to the ground
Mold and Mildew – Water and dampness can become trapped in the walls
Cracking – Caused by weather conditions over the years
Flaking Paint – Caused by worn out, wet, or poorly primed siding
Take the first step and call A Cut Above Exteriors for a friendly, no-obligation estimate. A Cut Above Exteriors is committed to being the best and most respected exteriors company in the Northwest, providing unparalleled customer service, value, integrity and quality. We can help make your home and environment better through energy efficiency.
Call A Cut Above today at
503.643.1121
for a free consultation and estimate.

*DETAILS OF OFFER – Offer . Not valid with other offers or prior purchases. Valid with new roof or siding replacement of $10,000 or more. Loans provided by Enerbank USA (1245 E. Brickyard Rd, Suite 640, Salt Lake City, UT 84106) or Green Sky Financial on approved credit, for a limited time. No interest on a 12 month loan for well qualified buyers, rate is subject to change and rate may be higher depending on credit worthiness. Longer terms (up to 120 months) are available at 6.99% interest for well qualified buyers.