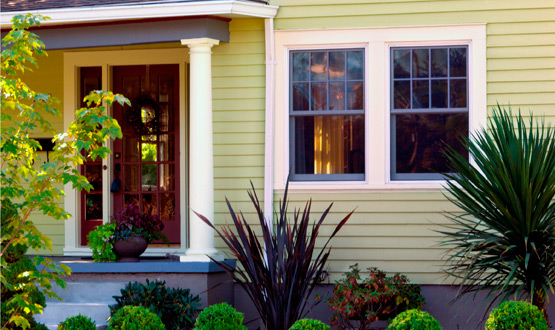 Increased Savings with Our Energy-Efficient Replacement Windows
Windows have gone from being a literal hole in the wall to essential components that contribute to your home's look and feel. That's why you should consider investing in professional window replacement if your existing units are already old and failing. However, if you want to make the most of this project, it pays to choose replacements that not only looks great, but can deliver superior energy performance, as well.
A Cut Above Exteriors can help you with this. As your premier home improvement company, we offer only the most energy-efficient replacement windows from top brands. Here's a closer look at the rewarding features this exceptional units can provide:
Durable and Efficient Material
Our windows use an advanced composite material for sashes and frames. This material offers the strength and insulating properties of wood with the low-maintenance performance of vinyl. It doesn't crack, chip, or corrode. Unlike vinyl, composite material doesn't change shape when exposed to extreme weather and temperature. Additionally, this material keeps an airtight seal, preventing air leakage and significant energy loss.
Advanced High-Performance™ Low-E4® Glass Package
Our windows include High-Performance™ Low-E4® glass, which allows considerable natural light to enter your home, minus the heat transfer. This helps keep your rooms cooler and more comfortable, while reducing your reliance to air conditioning. At the same time, this glass helps retain heating energy inside your home during colder months, allowing for more energy savings.
A Thermally Comfortable Home All Year Round
Our windows are all ENERGY STAR certified, which means they have met stringent energy performance ratings. You'll also benefit from an excellent manufacturer's warranty, which cover both materials and installation, along with our own Lifetime Craftsmanship Warranty.
Contact Us Today!
Homeowners in and around Portland, OR or Vancouver WA know that when it comes to quality window replacement, A Cut Above Exteriors can definitely deliver. We'll maximize your home's comfort and energy efficiency with our home windows. Call us today at 503.334.0733 or fill out this form to get your free estimate.