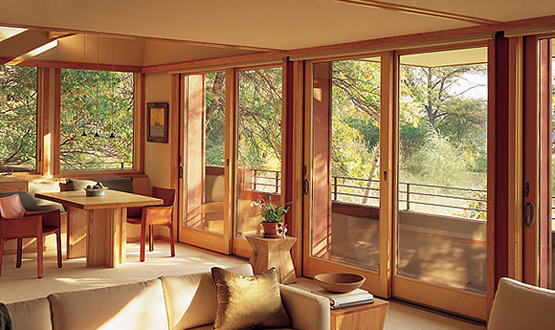 Our Patio Door Installation: What to Expect
The most important aspect of a patio door replacement project is in the quality of its installation – even the best product will not perform as expected if the installers do a subpar job. That's why at A Cut Above Exteriors, we always utilize our extensive experience and knowledge base to ensure only professional installations and your utmost satisfaction.
Our expert installers are specially trained to meet our highly acclaimed installation and customer service standards. In fact, our staunch commitment to continuous training, personnel safety, and dedicated after service are just some of the reasons we continue to be the top choice for thousands of homeowners in the Pacific Northwest. Here's what you can expect from our patio door installation process:
Arrive at Your Home and Setup Equipment
Our installers will arrive as scheduled in one of our state-of-the-art shops on wheels. This truck carries all our equipment and needed materials to make your patio door installation a smooth process. In most cases, we'll do the bulk of the work in this self-contained truck so there is as little mess as possible in your living room.
Installation with Air and Water Tight Proofing
During the installation, we will create a waterproof seal around the openings of your new door using self-sealing adhesive membranes. This seal will enhance energy efficiency by preventing moisture and air from entering your home.
Cleanup at the End of Each Working Day
At the end of each day and when the job is over, our crew will ensure that the entire work area is clean and free of any debris.
Finishing
In some cases, installing a new door may present slight siding and trim issues, such as color mismatching. Not to worry, as the leading local siding and painting company, we will be more than happy to handle this for you, for an additional charge.
Get in Touch with Us Today!
Call us at 503.334.0733 for a FREE estimate on your door replacement needs. You can also get in touch with us by filling out our contact form and we'll contact you shortly.