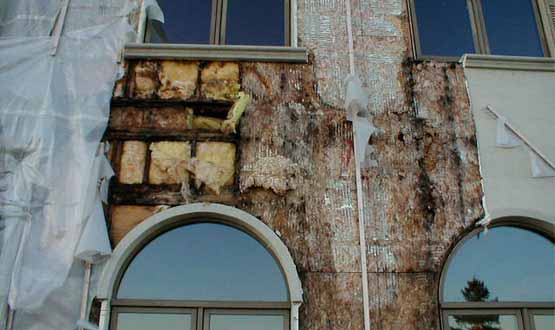 A Cut Above Exteriors: EIFS Problems
EIFS, short for Exterior Insulation and Finish System, is an insulating and protective finish applied on exterior walls. Though often called "synthetic stucco", EIFS is very different from traditional hard-coat stucco. The system consists of three types of layers:
Insulation board – attached mechanically or with adhesives to the wall sheathing; usually made of polystyrene foam or a similar material
Synthetic base coat – applied on top of the insulation board; reinforced with fiberglass mesh
Finish coat(s) – applied on top of the base coat; gives the system a durable, crack-resistant finish that resembles traditional stucco
This type of system offers several advantages, such as superior energy efficiency, great design flexibility, and reduced air infiltration; however, EIFS has its share of downsides.
The Root of the Problem
Most problems with EIFS are a result of moisture getting into or behind the insulation board, which acts like a sponge and traps water against your plywood sheathing. If enough moisture is trapped, you could end up saddled with thousands of dollars' worth of dry rot and structural damage.
Because the successful installation of these systems is so highly dependent on keeping water out, manufacturers set meticulous specifications for EIFS applications. But even these standards aren't enough to prevent EIFS failure. Reasons include:
Lack of a secondary weather barrier in most EIFS applications
Lack of external visual clues to early leakage problems
Lack of inspection and enforcement of standards
Lack of ongoing applicator training
Lack of maintenance
EIFS susceptibility to moisture issues can make even small problems escalate quickly, especially in the Pacific Northwest's humid, rainy climate.
Contact Us
Delaying repairs can lead to more expensive problems down the road. If you see or suspect problems in your home's EIFS exteriors, don't hesitate to call 503-643-1121. The A Cut Above team has several years of experience in EIFS remediation and will be able to assist you with information and if needed, see to your home's proper restoration and waterproofing.
To request a free, no-obligation estimate, fill out our contact form today.