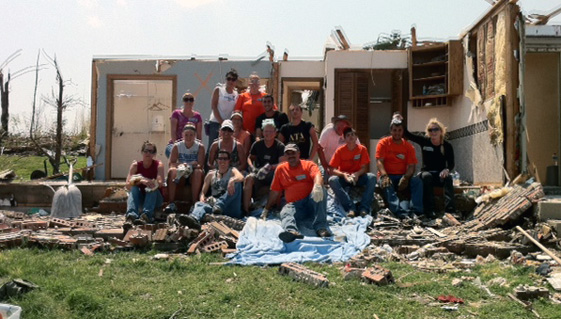 Giving Back to the Communities We Serve
A Cut Above Exteriors isn't just about providing exceptional workmanship in every project we undertake. We are also committed to giving back the communities we serve in Portland, West Linn, Lake Oswego, and surrounding areas. This is just one way to express just how much we value our solid relationship with our Oregon homeowners. However, our involvement with the community isn't limited to our home state.
We have sent a small group of our best employees and volunteers to Joplin, MO to help after the devastating 2011 tornado. By assisting with the cleanup in preparation for re-building, A Cut Above Exteriors has been able to help victims move on from a terrible time in their lives.
Here are some of the organizations A Cut Above Exteriors supports:
Susan G. Komen for the Cure
By contributing to this non-profit, we aim to help save the lives of breast cancer patients, addressing their crucial needs and investing in breakthrough research to prevent and cure the disease.
Habitat for Humanity
A Cut Above Exteriors also supports our local Habitat for Humanity, a global non-profit working to provide decent and affordable housing for people in need.
Oregon Food Bank
Working to eliminate hunger in the state, the Oregon Food Bank addresses the root cause of hunger through nutrition, garden education, public policy, and awareness.
Open Arms International
This charitable organization believes in providing relief to the needy through medical expertise, education, and Christian ministry–a commitment that A Cut Above Exteriors shares.
Samaritan's Purse
With this organization, A Cut Above Exteriors helps to deliver physical and spiritual aid to victims of war, poverty, natural disasters, and disease around the world.
Cityteam Ministries
A Cut Above Exteriors also helps serve the poor and homeless in Portland, Oakland, San Francisco, and Philadelphia via this Christian nonprofit.
Contact Us Today!
When looking for a premier remodeling company to work on your project, choose A Cut ABove Exteriors. We have always been dedicated to serving our Oregon communities and we'll continue to do so long as we're in business. Call us today at 503.334.0733 or fill out this form to schedule your consultation.
Susan G. Komen
Open Arms International
Habitat for Humanity
Samaritan's Purse
Oregon Food Bank
City Team Ministries