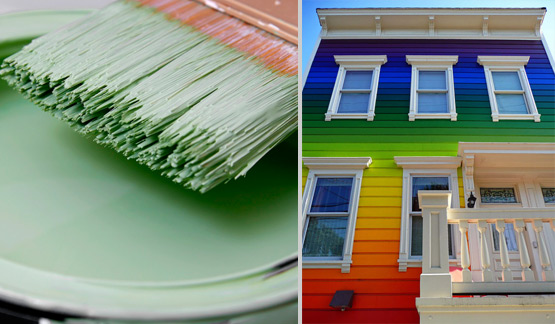 Painting is the final touch to a great siding job. Application methods can vary from product to product, but we typically adhere to a two-coat application process using one body color, one front door color, and one trim color (standard prices do not include painting window & corner trim the trim color). Paint is applied by a spray gun to the body of your house, which includes the garage doors, eaves, and ceilings. In some cases, your paint may be back-rolled or brushed-out to ensure complete and even coverage. Your trim color is hand brushed on to your gutters, fascia, and door trim.
During the painting process all plants, shrubs, trees, walkways, decks, etc. are covered with tarps or are masked off to guarantee a clean job free of over-spray. A clean and organized job site increases the quality of your job.
Unless otherwise noted in your estimate, items such as shutters, railings, decks, doors, window frames, columns, and detached structures are not included in our paint prices. Paint jobs include minimal preparation and priming work. All additional paint work will be billed per our contract terms. This might include power-washing to remove excess mildew or fungus on gutters, downspouts, eaves, or other surfaces. Paint colors need to be selected by you and are required to start work. In the event a color is selected, then changed after the paint is purchased, you will be billed for the purchased paint. Please clarify all details with your estimator.
Painting FAQs
1. How soon does the painting part of my project begin after the siding is complete?
Under normal conditions, we require a minimum of one to two days for your caulking to cure. As a general rule, we usually start painting your home one to two weeks after your siding is complete. However, during winter months it may be longer than two weeks . We cannot paint during extreme wet weather. However, almost all of the products we install are pre-primed and caulked. Because of this, your home does not need to be painted for 90 to 180 days depending on what type of siding is installed.
2. How much paint do you apply?
The equivalent of two coats of a quality 100% acrylic latex paint is applied to the body of the house. All siding is painted to the manufacturer's specifications.