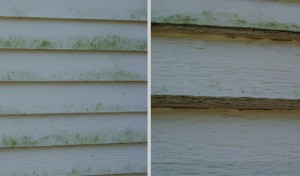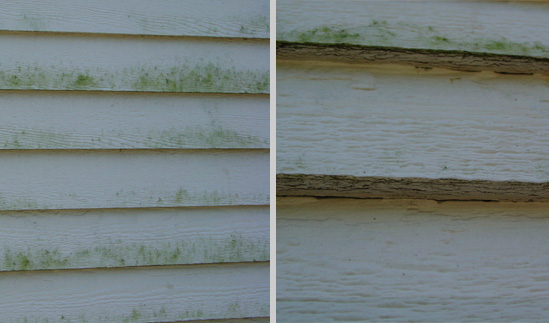 Are you experiencing problems with your siding? We make sure our customers are happy by offering this warranty on both materials and installation for every project.
Call us today at 503.643.1121 or click here to request a free estimate. Find out why A Cut Above has won Angie's List Super Service Award every year since 2006.
There are hundreds of potential siding related problems. Most of you visiting this site might be familiar with the obvious ones such as defective Louisiana-Pacific siding or hazardous asbestos shingle siding. However, siding problems could be the result of poor installation, extreme weather exposure, improper nailing, inadequate flashing, poor paint coverage, inappropriate caulking, fungal growth, or delayed maintenance. These are just a few samples of what might be causing your siding problems. The bottom line is you have a problem that needs to be addressed before it leads to more significant problems, costs, or headaches.
What is composite wood siding?
There have been well over 100 different types of wood composite sidings manufactured in the last fifty years. They have been manufactured to look like horizontal lap siding, panel (T1-11) siding, board & batten siding, cedar shingle siding, and just about anything else available in real wood.
Most wood composite siding products are made with wood by-products such as Orientated Strand Board (OSB) (also known as Wafer Wood) or sawdust. The by-products are generally mixed with resins and pressed together to make panels typically 3/8″ to 5/8″ thick. Next, faux wood-grain embossed overlays are adhered to the face of the panels with resin and heat. Finally, the large panels are cut into smaller panels or lap siding.
How to identify composite wood siding
The age of your home might be a good indicator of what type of siding you have.
1980 – 1998

Masonite Hardboard Siding
Masonite Omniwood Class Action Suit

Mid 1980s – Dec. 1995

Louisiana-Pacific Inner-Seal Siding
Louisiana-Pacific Class Action Suit

1981 – 1999

Weyerhaeuser Hardboard Siding
Weyerhaeuser Class Action Suit

1982 – 1997

Stimson Forestex

1992 – late 1990s

Masonite Omniwood
Masonite Omniwood Class Action Suit
(Most was installed in the Northwest 1994-1999)

After Jan. 1996

Louisiana-Pacific Siding
(Most likely the next generation product not
covered under the class action lawsuit. You will
need to file a warranty claim directly with
Louisiana-Pacific if you are having problems.)