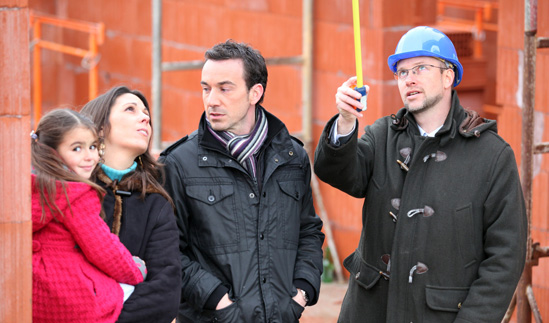 At A Cut Above Exteriors, we want to make sure that all of our potential customers know how to protect themselves from hiring unreliable and poor quality companies to work on their home. We understand that sometimes people can be all too trustworthy when it comes to hiring companies to do their home improvement projects. A Cut Above Exteriors strongly believes that a little research can save you tremendous amount of wasted time, money, and headaches. There are a few common sense questions you should ask yourself and any contractor you are thinking of hiring.
How was your initial contact with the company?
Your first contact is important because it will give you a good indication of what kind of customer service that the company might provide. Speaking with a real person and not a machine can show that the company cares about your questions and business.
Was the company's representative friendly & courteous during your first meeting?
First impressions can make or break your confidence in a company's ability to take care of you as a customer. Friendly and courteous representatives with professional dress, company vehicles, and great attitudes are good indicators of what type of company you are dealing with.
Did you get your estimate in a reasonable amount of time and was it professional?
Receiving your estimate in a timely fashion can indicate the speediness of service you might get and how promptly any problems you have may be resolved. A professional, comprehensive estimate is important because companies that provide vague, or limited scope estimates tend to deliver less than a company that spells out every detail in their estimate.
Did you get all of your questions and concerns addressed and do you feel comfortable that the company is the best (not the cheapest) company to do your job?
Trusting your instincts is one of the best things you can do when something doesn't feel right. Company representatives should be there to make sure you understand what will happen with your project. They should be able to answer all of your questions and you should understand the answers given to you. If the company cannot provide answers that make sense or give you peace of mind, do your research and find out if the company is your best option.
Does your perspective contractor's company have a street address or a P.O. Box?
There are thousands of 'Fly-by-night' home service companies across the country. Not a week goes by without hearing about an elderly person or a single mother being taken for thousands of dollars by one of these types of companies. Many of these companies have P.O. Boxes so once they have scammed enough money, they will be able to pickup and leave town. Leaving their customers with no way to find them and no recourse for their loss of money. A reputable contractor should have a mailing address that is not a P.O. Box. This does not mean that all contractors with P.O. Boxes are scam artists, but it does mean you should do your research to ensure they are good company.
Was your estimator able to give you a reference list with several names and addresses of satisfied customers in your area?
Having a reference list with several names and addresses of completed projects in your area is a very important part of researching your contractor. Being able to see actual completed projects or talk with satisfied customers will help you determine the quality of craftsmanship the company can provide. Be leery of companies that cannot provide you with 10 or more references. Also, make sure that you get the address of all the references so you can make sure it is not a factious reference.
These are just a few things A Cut Above Exteriors suggest you ask potential contractors when you are looking for someone to do your home improvement projects. Other things you can do to find a reputable contractor are asking for referrals from friends and neighbors, talking to local lumberyards and building material suppliers, and contacting local agencies such as the Homebuilders Association (HBA).
Consumer protection is very important and there are many agencies that can give you advice on how to hire a contractor. The National Association of Homebuilders says, " Call your local or state consumer protection agency and the Better Business Bureau", we encourage you to do the same.
Oregon Construction Contractors Board
The State of Oregon has an agency called the Construction Contractors Board (CCB). The CCB provides background information on all contractors registered in the State. In order to do construction of any kind in Oregon you must be registered with the CCB. When meeting with a perspective contractor ask for their CCB number and do some research. This is one of the fastest and easiest ways to make sure that your contractor is registered, bonded, and insured. However, do not assume a contractor is a reputable contractor just because they are registered with the CCB. Also, verify all information obtained from the CCB to ensure it is accurate and up-to-date.