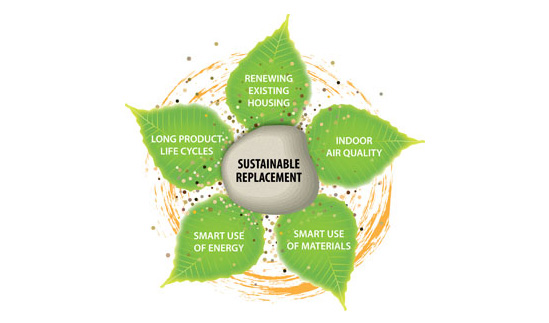 Save Money on Energy Efficient Windows
Sustainable & Green Replacement
We've developed a core of products and services that meet the highest standards of testing for sustainability and positive environmental impact. Coupled with our thoughtful installation methods, we deliver answers to the challenges of a healthy ecosystem.
5 Answers to the Challenges We Face Today
Renewing Existing Housing: The trend is to renew what is already there, in a way that promotes a healthier, more energy efficient experience: livable and beautiful.
Indoor Air Quality: Our installation practices, combined with products like Andersen® windows and doors, meet some of the strictest indoor air emission standards in the nation.
Smart Use of Materials: Custom selected and quality designed products are what we bring to you. We invite apples to apples comparisons with industry products and we believe you'll see that our siding, window, door and roofing products are the right choice for your home.
Smart Use of Energy: We view your house as a system, ready to perform well. With each measure of improvement we look for energy savings and greater comfort. Andersen® replacement windows alone can save you up to 25% on your energy bills and can offset as much as 40% of your annual heating and cooling costs.
Long Product Life cycles: Built to last. That is what we look for in all our products and that is how we install. This reduces waste and allows you to enjoy the benefits for years to come.